The NBA's second half of the season will restart on Thursday night and the next 8 weeks of play should be must watch television on a nightly basis. Each of the teams have right around 30 or so games left on the schedule.
This edition will highlight the Eastern Conference. The Eastern Conference has four strong teams, two teams that are contenders, two more that should make the playoffs and the rest of the conference that has their shares of concern and questions.
So, let's look at one key story, player or interesting development that could happen over the next few weeks. (Thanks to all of the content creators for their hard work as well)
Atlanta Hawks: 15-41 (26 games left)
Hello Cam Reddish
The playoffs might be out of reach this season in Atlanta, but the remaining games will be a chance for Cam Reddish to make a huge impact. Since the beginning of the new year, Reddish has looked like a different player. Since starting on January 10th against Washington, Cam has averaged 12.5 points on 43.8% shooting from beyond the arc. In those same 14 games, he's also scored in double figures in 12 of those games and building more and more confidence in game. Now if he can stay out of foul trouble in 6 of those 14 games, he's had 4 or more fouls.
Boston Celtics: 38-16 (28 games left)
Can Boston Do Damage in The Playoffs Without a Rim Protector?
On paper the Boston Celtics might have the best assortment of firepower in the entire Eastern Conference. Led by All-Stars Kemba Walker and Jayson Tatum, the Celtics are just as good as this season as they were last season. The problem is that the Celtics don't have players like Al Horford and Aron Baynes to protect the paint against the big men that the East have to offer. Not offense to Enes Kanter, Robert Williams and Daniel Theis, but Boston could be in serious trouble in a seven-game series against Joel Embiid or Bam Adabayo.
Brooklyn Nets: 25-28 (29 games left)
It's Time For Kyrie Irving To Show The Worth Of A Maximum Contract.
Brooklyn has a been an enigma all season long. Kyrie Irving and Caris LeVert both get hurt early this season and Spencer Dinwiddie and company still stay competitive. The Nets are 8-12 with their All-Star Point Guard out of the lineup and they really haven't had a chance to have a healthy team together at all this season. Now with the playoffs in their sights and with 29 games to get himself in playoff shape, the Nets only chance of getting out of the opening round is for their star guard to regain his All-NBA form. Remember Irving is the only player on this roster that has been to the conference finals (Kevin Durant isn't expected to anything more than do drills and run on the sidelines for the reminder of the season).
Charlotte Hornets: 18-36 (28 games left)
Malik Monk And The NBA Draft
Charlotte spent a lottery selection on Malik Monk three years ago and the results haven't been as expected. But over the last 3 weeks, he's shown more signs of life than at any point in his young career. He's averaged 17 points a game in the month of February and looks like the player that was averaging around 20 points a game during his one season in college at Kentucky. At this point in the year, the Hornets must let him play consistently for the rest of the season to make a real evaluation as he enters his fourth and most important year of his career. If he can't keep the momentum, then the Hornets need enter the draft with the idea of drafting Anthony Edwards as the major priority.
Chicago Bulls: 19-36 (27 games left)
Should This Be The End Of Paxson, Forman and Boylan In Chi-Town?
Yes, the Bulls have had injuries (Wendell Carter Jr, Otto Porter, Lauri Markkanen and Kris Dunn) to key rotation players, but there is no way that team this talented should be this inconstant on a nightly basis. Besides wasting an outstanding season from Zach LaVine, the Bulls haven't done a good job putting a consistent team that can attempt to make the playoffs. Some of their draft picks (Dunn, Denzel Valentine and Chandler Hutchinson) haven't developed into key rotation pieces, their second-best player (Markkanen) hasn't been an impact player and Chicago are now five games behind the Orlando Magic for the final playoff spot in the eastern conference. Now this group should have 27 games to turn it around, if not it should be time for a complete overhaul in the Windy City.
Cleveland Cavaliers: 14-40 (28 games left)
Darius Garland Has To Become A Playmaker Or A Change Is Needed At Point Guard
I know it's unfair to place a big expectation on a rookie Point Guard, but at this point in the season something must be done. When the Cavaliers drafted Garland to go next to Colin Sexton, the idea was to let Garland run the show and Sexton play more off ball. While Sexton has turned into almost 20 point a game scorer this season, Garland at times has struggled with playmaking decisions. But over the last 2 months he's averaging over 5.5 assists a game and has 10 games since January 1st of 6 assists or more in a game. Like the aforementioned Monk, Garland needs prove that he can make all the necessary plays as the lead Point Guard or the Cavaliers need to focus on drafting someone who can (LaMelo Ball, anyone). Now what to do with Andre Drummond is a topic for another article on another day.
Detroit Pistons: 19-38 (25 games left)
Try To Find As Many Players Who Can Become Long Term Pistons As Possible
Blake Griffin isn't coming back at all this season and his long-term status is in the air. He will be 31 with his second major knee surgery at the beginning of next season and there is a good chance that he might not be the same player as he once was. Reggie Jackson (bought out on Tuesday), Brandon Knight, John Henson and Langston Galloway contracts are expiring and that will allow the Pistons to have potentially $40 million in cap space in July. Now with players like Christian Wood, Thon Maker, Bruce Brown and Khryi Thomas having either expiring or partially guaranteed contracts for next season, now is the time for these players to create long term spots for themselves in the Motor City. If none of these players can make an impact with the chance they have, Detroit's roster could be in for an almost complete overhaul for the 2020-2021 season.
Indiana Pacers: 32-23 (27 games left)
Let T.J. Warren Play 30 or More Minutes
With Victor Oladipo still rounding himself into shape after being out for almost an entire calendar year, the acquisition of Warren was supposed to help especially on the scoring end until the Pacers All-Star was back to normal. When Warren is on the floor, he's a walking bucket. He's the team's leading scorer at 18.5 points per game and he's capable of having big scoring games (12 games with 25 or more points). But the most important stat is that when he plays 30 or more minutes, the Pacers are 25-10. They have beaten some of the best teams in the league (Philadelphia (twice), Los Angeles Lakers, Milwaukee, Toronto and Denver) when he plays big minutes. When he hasn't, they have beaten only two teams (Boston and Memphis) over .500.
Miami Heat: 35-19 (28 games left)
How Much Of The Load Will Erik Spolestra Allow The Young Guns To Carry Down The Stretch?
One of the major reasons why the Miami Heat have turned the corner into a contending team in the Eastern Conference is the play of three youngsters. Rookies Kendrick Nunn, Tyler Herro and second-year sharpshooter Duncan Robinson have exceeded expectations and have played themselves into critical roles in the rotation. But with the additions of playoff veterans Andre Iguodala and Jae Crowder and Goran Dragic, Kelly Olynik and Meyers Leonard having plenty of playoff experience, the potential for the three youngers to gain major playing time in the playoff could decrease. The difference between playing games after the opening round of the playoffs will determined by the three youngsters being able to maintain their consistency, they established in the opening two-thirds of the season.
Milwaukee Bucks: 46-8 (28 games left)
Is The Addition Of Marvin Williams Enough To Win The Eastern Conference?
The Bucks are still on pace to win 70 games even after losing the Indiana Pacers right before the All-Star break. Even though the Bucks will have the Pacers first round pick in June's NBA Draft, they didn't use it to acquire a player at the trade deadline. Instead they used the waiver wire to pickup former Charlotte Hornet Marvin Williams. If the Bucks have one concern is that the are 14th in the league in three-point shooting. If they can find one more shooter or if Brook Lopez can go back to the efficiency of last season, Milwaukee might have everything the need to win the NBA Championship.
New York Knicks: 17-38 (27 games left)
Paging Kevin Knox
New York just traded leading scorer Marcus Morris to the Los Angeles Clippers at the deadline and players like Bobby Portis and Maurice Harkless might not be on the roster at all next season, so the team needs to see what they have in the second year player from Kentucky. Everyone knows that his jumper has been erratic, and his defense has a lot of holes in it, but this team isn't close to the playoffs. So, what do they have to lose? If Knox can't work long term, then the team might have to investigate the swingman spot in their draft possibilities in June. But if he can at least go back to his rookie season form, they can pencil him next to RJ Barrett in their long-term plans.
Orlando Magic: 24-31 (27 games left)
Doing Everything Possible To Avoid The Milwaukee Bucks In The Playoffs
If there is any team in the Eastern Conference that the Orlando Magic have the most problems against in the playoffs, it's the team they would be matched up against if the playoffs would start right now. They have lost by double digits in 3 of the 4 games this season including a 32-point loss at home in November. Not having their two best swing defenders in Jonathan Issac and Al-Farooq Aminu available for a playoff series to guard Giannis Antetokounmpo leaves the Magic vulnerable to a potential sweep in the opening round. What makes matters worse is the Bucks are number in the league points per game and pace and the Magic doesn't have the firepower to be able to keep up. So, taking advantage of a final stretch of games that include 18 out the final 27 games against teams under .500 and 2 games against the seventh place Brooklyn Nets will be critical to get a better playoff matchup.
Philadelphia 76ers: 34-21 (27 games left)
Finding Ways To Win Away From Wells Fargo Center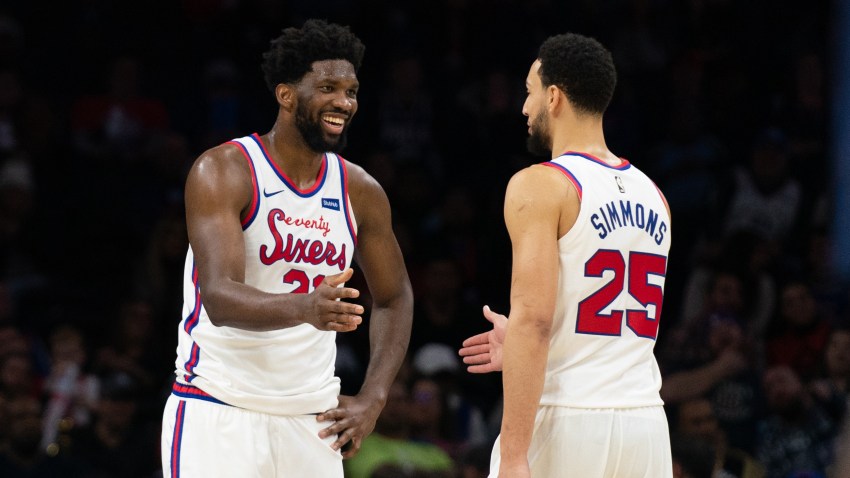 The Philadelphia 76ers have been the NBA's of Dr. Jekyll and Mr. Hyde in the 2019-2020 season. They are almost unbeatable at home. Philadelphia is 25-2 at home this season and they have won by an average of over 10 points per game. Brett Brown's team leave the state of Pennsylvania and they become a completely different team. They give up 10 more points per game and allow 6 more free throws a game to their opposition. The 76ers are 2-11 against the current playoff teams in the East and still have one road on Saturday in Milwaukee. Winning on the road will be critical to get the 76ers home court advantage in the opening round. Besides the Bucks, Philadelphia has only three games left against .500 or better teams on the road. The closer they can get their road record to .500 the better chance they have to catch third place Boston (3.5 games behind) and fourth place Miami (1.5 games behind) in the standings.
Toronto Raptors: 40-15 (27 games left)
Who Is The Closer In Toronto?
Last season, Kawhi Leonard's ability to take over games in the fourth quarter was one of the main reasons why the Raptors won their first NBA Championship. But another player who became a big shot maker during their run was Fred VanVleet. If you go back to the Finals series against the Golden State Warriors, VanVleet hit one big shot after another allowing the Warriors not to key in on Leonard. Now with the Raptors set to attempt to repeat, VanVleet must take on that role again this year. Nothing against Kyle Lowry or Pascal Siakam, but VanVleet has shown previously he can do it. Now can he do it without having Leonard by his side?
Washington Wizards: 20-33 (29 games left)
Is It Worth Risking To A Potential High Pick To Make A Playoff Run?
Washington is three games behind the Orlando Magic as the second half begins on Thursday night. Even with John Wall missing the entire season and the team having changes at the Point Guard position all season, the Wizards are still competitive. Led by Bradley Beal's 29 points a game and career seasons from Davis Bertans and Thomas Bryant, Washington has can still make a run at the playoffs. Now with Irving out for the foreseeable future and Orlando struggling to put wins together, Washington could put together a few wins together and re-enter the playoffs for the first time in a few years. But it would be nice to get a chance to land a player like Obi Toppin in the draft.