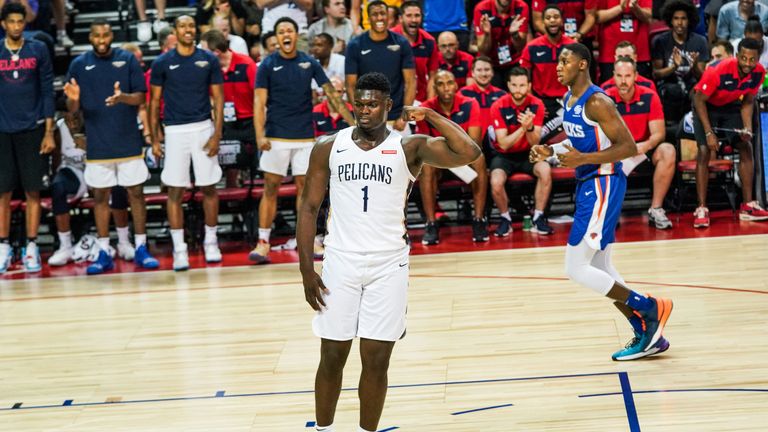 This Group Is Fun To Watch… But Something Is Missing..
13. New Orleans Pelicans
14. Toronto Raptors
15. San Antonio Spurs
16. Orlando Magic
17. Miami Heat
What Is Missing From The Pelicans?
Familiarity… is the missing link in New Orleans at the current moment. David Griffin has turned around a team that had it's franchise player (Anthony Davis) wanting to traded to Los Angeles to a team that could be one of the most dangerous teams in the entire league. New Orleans added the perfect mix of youth (Zion Williamson, Jaxson Hayes and Nickeil Alexander-Walker), talent (Brandon Ingram, Lonzo Ball and Josh Hart) and experience (J.J Redick and Derrick Favors) to a team that has Jrue Holiday as their foundation.
Now Alvin Gentry's biggest job is to get this group to be on the same page in time for the playoffs. Because if this team can all get on the same page, their playoff opponent could be in deep trouble.
What Is Missing From The Raptors?
A Star Player… that can carry this group of Dinosaurs to the promise land for a second straight year. When they acquired both Kawhi Leonard and Danny Green from the San Antonio Spurs, they got a duo with a championship pedigree. They traded for Marc Gasol at the deadline and players like Siakam and Fred VanVleet elevated their games to an all new level. With veterans Kyle Lowry and Serge Ibaka, Toronto had the perfect mix to win the championship.
Now weeks after their championship parade, the Raptors are back to being a team that is missing that elite player to carry them to the NBA Finals again. Siakam has star qualities and will have to carry this group, because Lowry, Ibaka and Gasol are on the other side of 30 years old. Toronto didn't have the available cap space to bring in a free agent this summer, but will have plenty of space next summer.
Why? Lowry, Ibaka and Gasol have expiring contracts.
What is Missing From The Spurs?
A Healthy and More Well-Rounded Dejounte Murray.. is the one thing missing from the Spurs being considered a top 4. San Antonio gets a healthy Murray back after missing all of last season and he should stop the revolving door at point guard. In his last healthy season, he was second team all-NBA on the defensive side of the ball. He's extremely talented, but he's coming back after tearing his ACL and hasn't played since the playoffs in 2017.
One of his major drawbacks is shooting. With an entire year off, the Spurs are hoping that he can improve on his 44% shooting from the field and his 26% shooting from downtown. Now if he can improve on his shooting numbers, the Spurs can consider themselves right in the middle of the Western Conference playoff race.
The Spurs already have pieces like DeMar DeRozan, LaMarcus Aldridge and Rudy Gay in the mix. But a well-rounded Murray gives them another weapon for the Spurs as they attempt to make a deep run in the playoffs.
What Is Missing From The Magic?
A Healthy Markelle Fultz…. could be the difference from Orlando moving up the playoff ladder to them missing the playoffs all together. The Magic front office took a big risk in trading for the former number one overall pick at the trade deadline last season. Acquiring the potential of Fultz, allowed Orlando to not to go after point guard/playmaker in the NBA Draft and use their mid-level exception on Al-Farooq Aminu.
Bringing back All-Star Nikola Vucevic and sharpshooting wing Terrence Ross was a great start in the teams attempt to return to the playoffs for a second straight season. But if Fultz is at least 90% of the player he was in college, Orlando will be better than the seventh seed they were last season. In some ways, they are the Eastern Conference's version of the New Orleans Pelicans. A really dangerous team if they can put it all together.
Otherwise, the lack of addressing the point guard position and adding a much needed shot creator from the wing, could put the Magic out of the playoffs in the upcoming season.
What Is Missing From The Heat?
A Partner For Jimmy Butler…. that can help shoulder the load when he's not on his game. Even Batman has his off days and the way the Miami Heat's roster is shaped, there is a bit of uncertainty around who is the true Robin to Jimmy being Batman. As of right now, Miami has former all-star Goran Dragic, the improving Justise Winslow and the ultra-talented Bam Adebayo as the leading candidates.
Dragic has to prove he's healthy (he missed 46 games last season) and provide the offensive punch that he did before the injury (12.7 ppg on 41.6% shooting after his return from injury). Winslow, hasn't shown that he can provide big scoring games on a regular basis. He had only 10 games where he scored 20 or more points in a game last season. Adebayo, hasn't shown more of a scoring touch in his career either, he's a career 8 point per game scorer.
So unless Dion Waiters returns back to his Cleveland scoring days, Pat Riley might have to make a phone call about a certain point guard that plays in the state of Oklahoma as well.